How consumers connect and interact with brands has changed dramatically. For Marketers to be part of this world, the marketing operations model must evolve, with data and integrated consumer connections at the core. Thus allowing brands to be where the consumers are and talk with them rather than just at them, and react and interact with what is relevant in the moment. This means agility in the marketing process is needed to respond to consumer needs in real-time.
Barriers to agile marketing
Delivering better integrated consumer connections and transforming into a truly consumer centred marketing operation is not easy: The bigger the organisation the bigger the gaps are between the aspiration of CMO's and the operational reality. Siloed teams and functions outside marketing's control are a huge roadblock to an agile and lean way of working.

Change means digging deeper to change processes and challenge the status quo of old ways of working.

At Flock, we believe that Marketing Operations is key to running successful marketing, particularly in a climate of always-on communication.

Whether that means you must change to an agile marketing way of working or not needs to be carefully evaluated. It requires new thinking about marketing skill sets, organisation design, process, data, technology, and ways of working with agencies. Many clients are surprised by the extent of change required to deliver a genuinely agile marketing environment.

To help you better understand what it means to adopt an agile marketing process, we've listed the core principles and watch outs, as well as main advantages below:
Principles and history:
Agile Marketing is an organisational effectiveness approach, inspired by techniques that have been used in software development, employing different forms of self-organising and cross-functional teams, to drive growth, focus and value.

In the early 2000s, a group of developers published the Manifesto for Agile Software Development.
Manifesto for Agile Software Development
We are uncovering better ways of developing software by doing it and helping others do it. Through this work we have come to value:
Individuals and interactions over processes and tools
Working software over comprehensive documentation
Customer collaboration over contract negotiation
Responding to change over following a plan
That is, while there is value in the items on the right, we value the items on the left more.
What does this mean for you?
New team structure
The most important item is the people — bringing together a small team of talented people who can work together at speed.

The aim is to deliver against a brief quickly, and avoid multiple layers of internal and external approvals – they need to be empowered to act and decide within their team structure led by a "scrum master". These functional teams are often called "squads, "pods" or "tribes".

In some instances, marketing organisation leaders will want to oversee or interact with the agile team; this can be part of the process but must be done in a very lightweight manner, at certain times and mainly positioned as update meetings.

This will be one of the biggest changes to most marketing process set-ups we've seen in the industry and needs to be carefully managed and implemented before you start moving to a new agile way of working.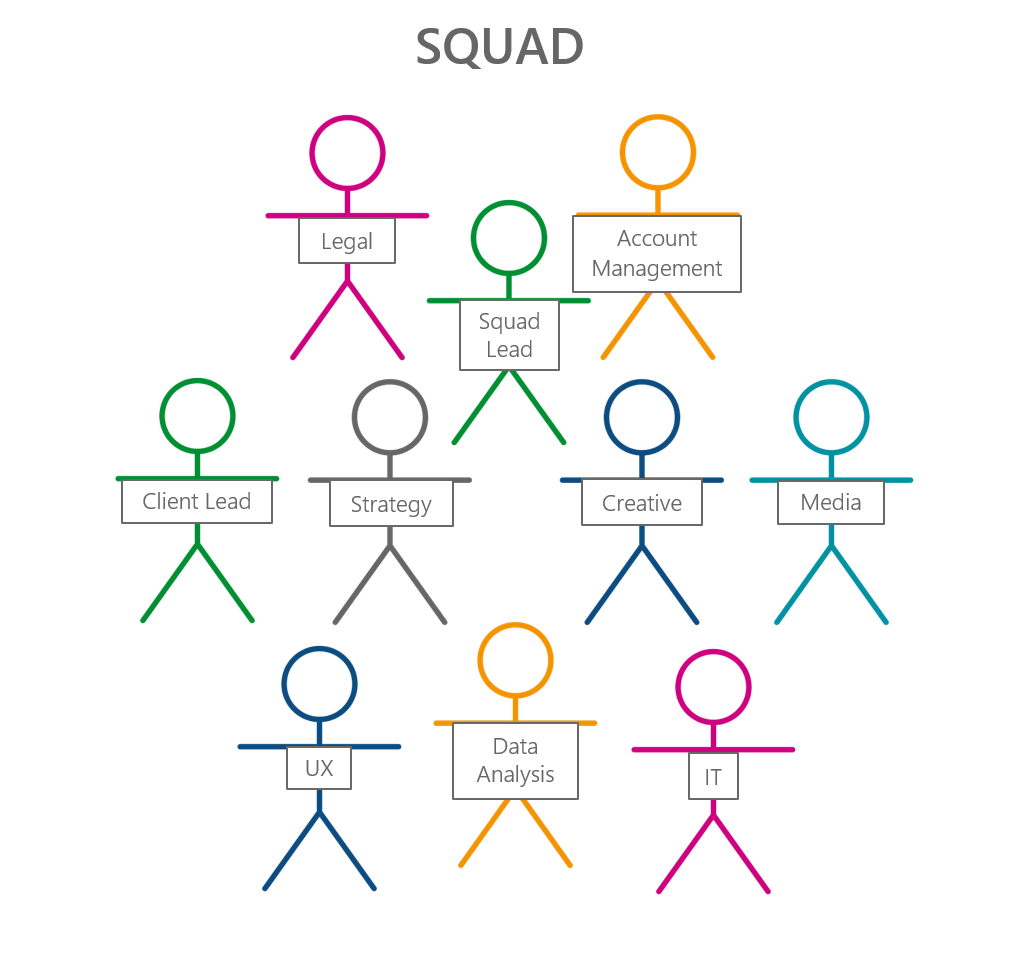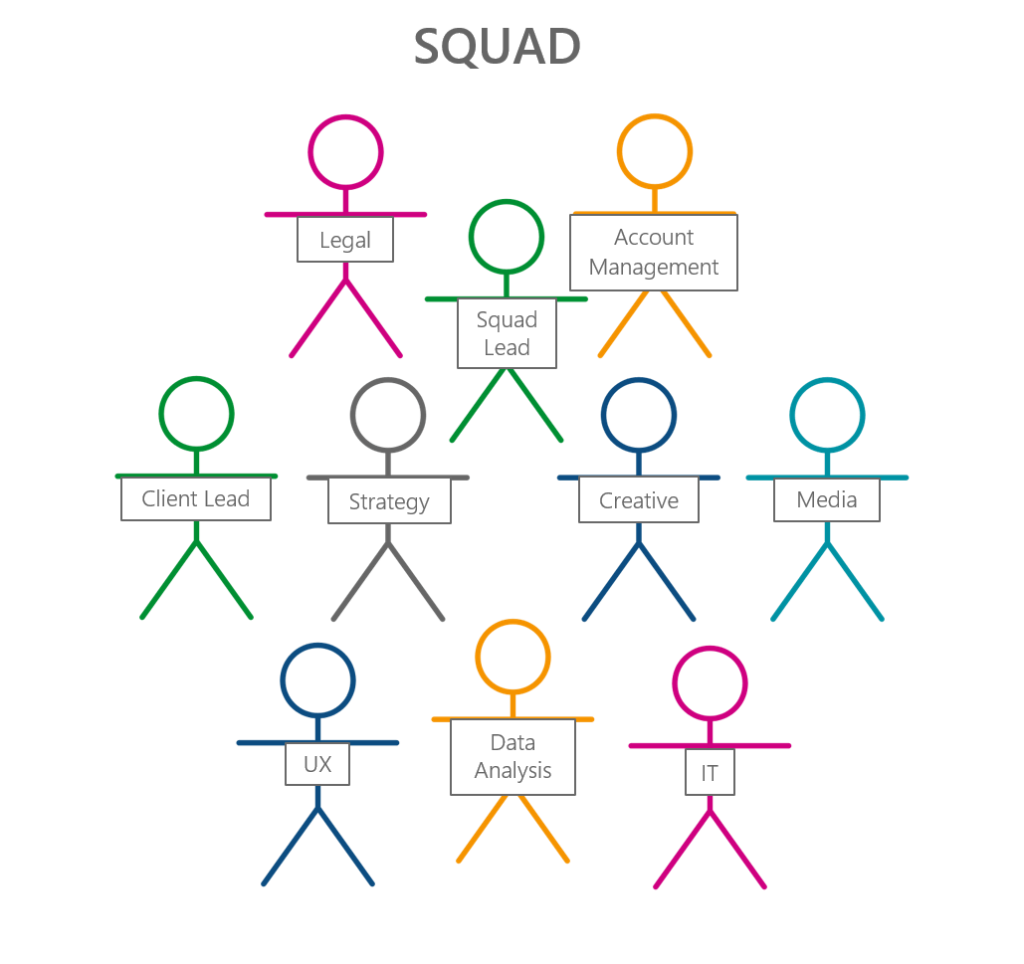 What else do you need to watch out for?
To start with, you need a clear sense of what you want to accomplish with your new agile operating system.
You would also need to have your Data, Analytics and MarTech infrastructure in place
An agile company culture is critical for Agile Marketing to thrive. There needs to be buy-in "from the top" to make the changes that agility demands – i.e. small, empowered, cross-functional teams working in sprints
It is important to have a clear business strategy and brand guidelines at the heart of the process for decision making
Testing is core to Agile Marketing, you need to expect 1/3rd of tests to fail, 1/3rd of tests to succeed and 1/3rd of tests to be inclusive
Agile needs great processes, great KPIs, and a discipline to make it work (even when the discipline is to allow flexibility)
Agile Marketing can be successfully applied to "Bricks and Mortar" and "old media" businesses, as well as new
Benefits of working in an agile way
At Flock we have worked with leaders of ambitious marketing organisations and agreed on the following benefits of working in an agile way:
Speed to market
Higher productivity
Measurable success
Collaboration & teamwork
Agile Marketing can be more fun and more rewarding than much of the politics driven "old style" decision making
A recent State of Agile Marketing 2018 report, by AgileSherpas in partnership with Kapost found that while you may think Agile Marketing is all about speed, participants noted the top three benefits to their team and organization are the ability to change gears quickly and effectively based on feedback: 54.8%; better visibility into project status: 51.6%; and higher quality work: 46.8%.
And nearly two-thirds of traditional marketers, 61.3%, say they're planning to start down the Agile path within a year.
Example of Agile Squads
At a recent Agile Marketing event Flock attended, BT presented their digital transformation and how they changed to Agile Squads:
In 2018 the Digital departments of BT and EE, were brought together under one Managing Director
This brought a new operating model, focused on the principle of 'more value, less effort'
The new model focuses on products not projects, and in less than 6 months has moved 90% of BT / EE into their new agile squads, focused on delivering and supporting customer outcomes
This has been achieved with a combination of consultation, training materials and workshops
Already achieved great results in collaboration and efficiency
At Flock our Marketing Operations service has helped to create optimised marketing processes for clients like McDonald's, Ford, Cisco, Petco, and Mondelez. Flock's Marketing Process Design will ensure your marketing team have ways of working that bring out the best in them.

If you are thinking of reviewing your Marketing Operations, please contact Flock: Julie.Marshall@flock-associates.com or Florian.Voigt@flock-associates.com.
Our next CMO Roundtable is on Agile Marketing if your a CMO and would like to attend please contact Julie.Marshall@flock-associates.com