For every marketing department, it is essential that they have a marketing operating model that is tailored to the specific business objectives. The right operating model will enable content to be delivered in line with the wider business aim and achieving new business targets effectively.
The model must be able to integrate processes, people, and technology across the ecosystem of the company and ensure that it can translate the strategic intent into operational capabilities.
With marketing budgets climbing from 6.4% of company revenue in 2021 to 9.5% in 2022(1), it is essential that a company has the right marketing operating model to provide the necessary structure the marketing organization needs to be able to deliver output effectively, efficiently, and within the companies vision, values, and policy.
There are numerous ways in which a marketing operating model can function but something that it must do, is have the future in mind. Ensuring that your marketing operating model is fit for the future is something that CMOs struggle with constantly, due to the fast paced and ever changing environment marketing departments must function within.
Some examples of future trends that need to be considered when future proofing a marketing operating model are:
A cookieless future
The Metaverse
User experience (Demand for greater interactive, experiential, convenient and personalised UX)
New e-commerce platforms
Voice search
Data analytics utilisation
As 60% of marketing organisations have centralised some or all of the function in the quest for operational efficiency(2), it is paramount that the correct marketing operations model is in place to achieve this efficiency.
Flock has run a number of projects for clients to ensure that their marketing operating model is able to deliver the outcomes that are desired effectively, efficiently and within the company policies. There are numerous aspects to a marketing operating model and Flock is able to tackle each and every one of them to ensure they provide you with the output you want and need!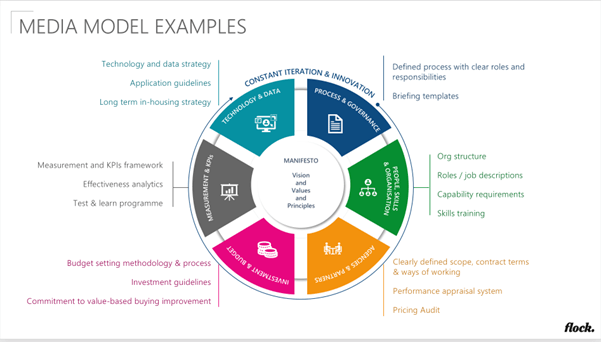 Flock project examples include a multinational automobile manufacturer, where the focus was to improve the global campaign development process to embed data-driven customer centricity into every stage of the creative process. Some of the outputs that Flock provided were:
Streamlined approvals process achieving reduced and more efficient use of senior stakeholder time.
New budget control process allowing visibility of broad campaign financial plan
New briefing documentation and best practice guidelines
If you would like to chat with us more on this topic or more details on how Flock can help with your marketing transformation please don't hesitate to get in touch using the form below.
Resources: (1) The State of Marketing Budget and Strategy 2022 by Gartner (2) The Future of Marketing Organizations by Gartner