Often when building an initial client-agency relationship, best practise processes and operational models are put it place, however, as the partnership grows, people change, new markets/disciplines are added, new strategic priorities are put in place, and clients have to ensure that the operational side of the relationship keeps up. But how do you know if your Operations are working?
Having conducted over 140 Agency Appraisals for global clients such as PepsiCo, Centrica and Citibank using our Flock Agency Appraisal Tool, we have established a strong industry benchmark for "Operations" as well as People, Output and Measurement & KPIs. Our data shows that Marketing Operations is an area that actually tends to score quite well, with an average benchmark score of 3.42 out of 5.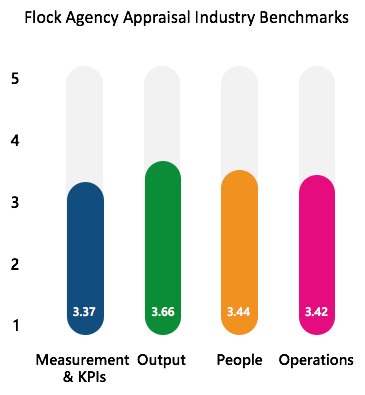 These scores reflect the common positive trends we see with our clients, the strong working relationships they have with external partners (particularly during the COVID-19 crisis), the clear commercial and procurement guidelines that are firmly in place and strong communication and engagement between client and agency. We do, however, have to ensure that we take a step back to review the ever-changing client-agency relationship and ensure we adapt, particularly when it comes to information sharing.
Sharing is caring but only when it is accurate and timely.
Our data shows that a common operational area that clients and their agencies tend to fall short in is information sharing. One aspect of this is the inconsistencies in information being shared between markets. Whilst all agency ecosystems are set up in different ways, it is important to continually utilise consistent and accurate data, and shared learning.  
Simply put, agencies need to get better at managing data. Great data and shared learning helps to drive efficiency, reduce duplication and ensure consistency in your creative/media output and delivery.
The second area of general agency weakness is the provision of accurate and timely information. Small errors and delays can quickly build-up and have a much larger impact on output than expected. The errors can lead to reduced performance, but also a lack of trust. It's important to get the right balance of needing the time to ensure data/information is accurate whilst ensuring deadlines are kept to. The responsibility for this sits on both sides ensuring there is a focus on accuracy, that information that feeds into a deliverable is shared at the required time in the process and that deadlines set are realistic.
If we are to recommend reviewing one element of your Marketing Operations within you client – agency relationship it would be to consider how you are sharing information and ask yourself, is it accurate, timely, and can you add value to the organisation as a whole by sharing this. If you need help in reviewing your Marketing Operations, please do get in touch.