Flock is delighted to announce the latest update to our Agency Scoping Tool.
The Flock Scoping Tool is used to:
Help clients manage their scopes of work and fees with their agencies
Manage the commercial aspects of pitch processes
Benchmark agency fees using over $1.1billion of live negotiated fees
This update is the result of three months of work with a six-figure investment, and is designed to improve the user experience for agency users and upgrade the "chassis" of the tool.
The 40+ modifications include:
Faster load time
Even greater security
New dashboards to manage multiple projects and scopes
The ability to delegate a submission
The ability to accept or reject a submission
The ability to annotate revisions
Easier upload of rate card costs
The ability to apply discounts at a job title level
Improved ability to calculate commissions, research costs, technology & data costs, production costs, and other pass-through costs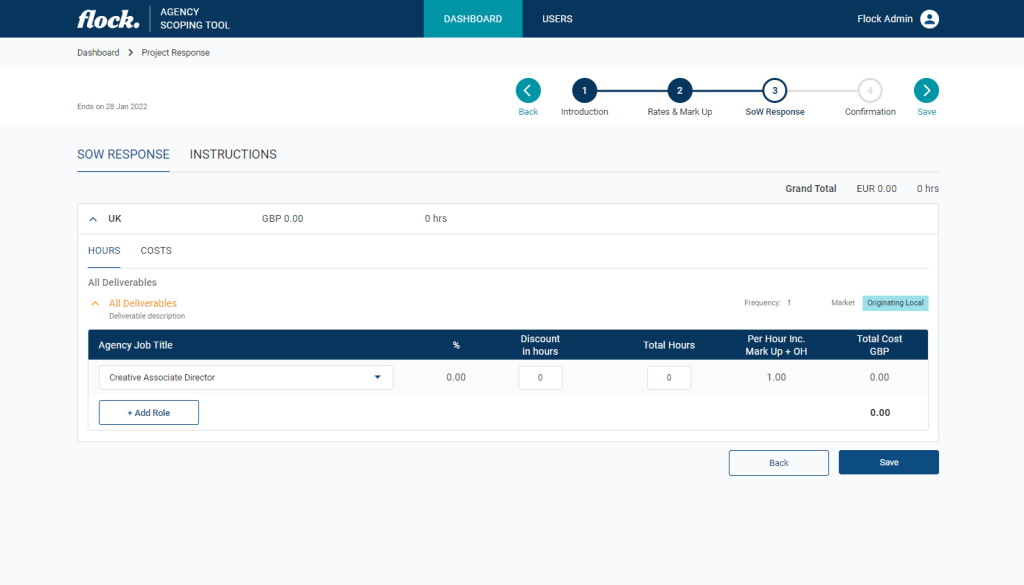 The next update will further improve the advertiser user experience, simplify data entry, and create new dashboard fields to help analyse and visualise fee information.

To book a demo for the tool and chat with one of our consultants, complete our contact form and we'll be in touch as soon as possible.