Last week, Flock attended ProcureCon Marketing 2023 held in London. We engaged in insightful conversations with some of the world's leading marketing procurement professionals and gathered valuable takeaways for those who couldn't make it to the event. In this post, we will share our key learnings and provide tips for implementing scaled marketing transformation programs, inspired by these industry experts.
Embrace Technology
While there were numerous discussions on exciting topics like AI and Web 3.0, it as surprising to observe that only a few companies had developed comprehensive plans or contractual protections to leverage these opportunities and mitigate associated risks. We highly recommend devising a technology plan that outlines its impact on agencies and marketers, ensuring you stay ahead of the curve.
Drive Sustainability and DEI
The encouraging shift from mere talk to tangible action was evident at Procurecon. Leading marketing procurement teams showcased compelling cases of how they have transformed their practices to prioritize sustainability and diversity, equity, and inclusion (DEI). It is crucial to develop Marketing Sustainability and DEI plans that align with your organization's values and contribute to a better future.
Address Churn and Training Needs
We were struck by the number of individuals who were new to their marketing roles or the industry as a whole. Providing comprehensive foundational training and insights to new recruits can significantly benefit companies in the long run. Consider building a robust training plan to equip your team with the necessary knowledge and skills.
Foster Strong Partnerships
It was refreshing to witness improved collaboration between companies and their agency partners, with less "agency bashing" compared to previous conferences. However, concerns about transparency in areas such as rates, fees, media, production, and promotions still lingered. To build trust, establish strong transparency protocols and contracts that encourage open dialogue and facilitate fair benchmarking practices.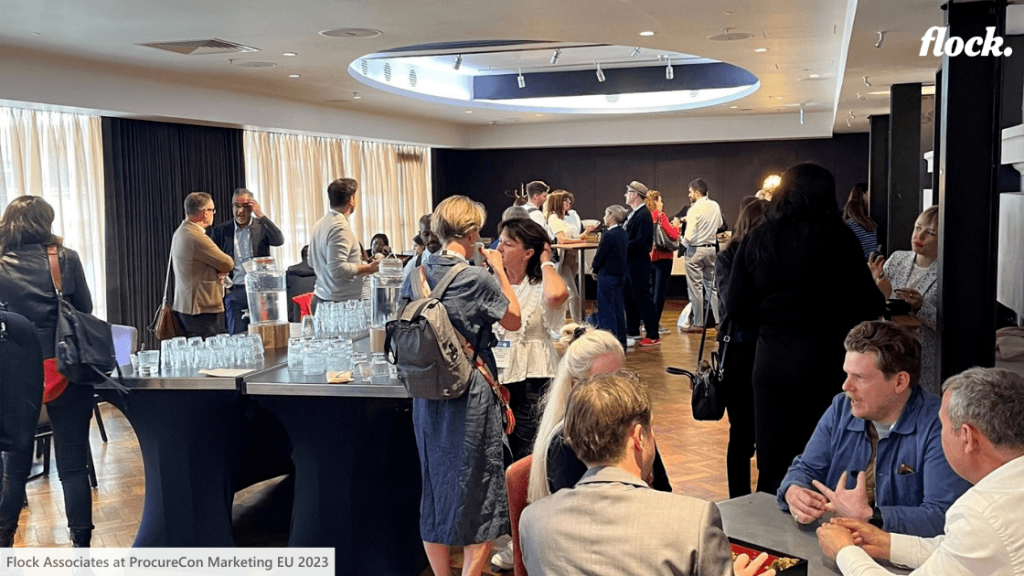 Additionally, we took note of several successful scaled marketing procurement transformation programs showcased at the conference, many of which resonated with our own experiences. Here are our top tips for implementing such programs:
Define Project Parameters: Clearly outline the scope, objectives, and timelines of your transformation initiative to ensure a focused and successful outcome.
Build a Coalition: Form a team of committed stakeholders, including agency partners, who can contribute their expertise and actively participate in the transformation journey.
Establish Baselines and KPIs: Develop a comprehensive understanding of your current state and set key performance indicators (KPIs) to measure the effectiveness of your transformation efforts.
Demonstrate Value Benefits: Beyond cost savings, emphasize the tangible value and benefits that your scaled marketing procurement transformation will bring to the organization.
Share Best Practices: Showcase successful case studies and inspire others by sharing the art of the possible. Encourage the adoption of industry best practices to drive continuous improvement.
Foster Clear Communication: Open, clear, and honest communication is vital for effective transformation. Keep all stakeholders informed about progress, challenges, and opportunities throughout the process.
Remain Agile: Be prepared to adapt and change tactics as required. A nimble approach allows you to respond to evolving circumstances and optimize outcomes.
Celebrate Success: Recognize and celebrate milestones and achievements along the transformation journey. This helps boost morale and sustains motivation for ongoing improvement.
Encourage Continuous Learning: Avoid formal "wash-ups" or post-mortem discussions. Instead, foster a culture of continuous learning and improvement that encourages ongoing evolution and innovation.
In conclusion, Procurecon showcased the positive impact that marketing procurement can have on businesses, brands, agencies, and the wider world. If you'd like to discuss any of the topics mentioned above or explore them further, please