I think its fair to say everybody has their good and bad days when it comes to the work they do. Some days everything seems to be going your way – you hit deadlines, the staff are pleased, you win business, you get praise, but on others a day it can suck. People don't turn up to a meeting, you don't get closure on decisions, and you feel like your boss is asking too much of you. In our relatively small world of marketing we are not alone feeling like this. Take the recent US Open Tennis where the complete unknown Emma Raducanu went from pulling out of the fourth round at Wimbledon to become the only qualifier to win a major and to top that she didn't even drop a set. Just 24 hours later the legend Novak Djokovic failed to reach his ambition of a calendar Grand Slam and to surpass the Federer and Nadal in their Grand Slam tally of 20 titles. If we had the opportunity to assess their tennis skills, I'm sure that the results would be more than favourable. Sure, you might be able to have a slight jab at his first serve or his defensive nature but in his own words his greatest weakness is all in the mind,​
"My capacity (or inability) to grasp things on a deeper level is both my greatest weakness and greatest strength. To be more specific, I feel my best when I recognise that strength originates from inside. And whatever happens outside, I can deal with it on the inside," Novak Djokovic First Sportz​
With Emma it is probably too early to fathom how she became so great, so quickly, but her former coach Clint Harris had this to say about her, ​
"I think she's had a very caring and balanced parental environment. Renee and Ian have done an unbelievable job to keep her feet firmly on the ground and [in instilling in Emma] that it is important to have balance." Clint Harris Inews​
In post match interviews she was quizzed whether she had played out the winning shot in her mind. Interestingly she cited clambering up to reach her team to say thank you for all their support. Often in business we default to can I do this rather than we. The same is true of the frequent requests we receive regrading our Skills Assessment Tool. ​
How can we improve the skills of our staff?​
Are our marketers fit for the future?​
How can we help them with their career path?​
At Flock we frequently notice that there is a trigger/gap that needs to be closed to improve the overall performance of an individual and/or team. Of course, the tool does this for you, but the results often have more of a 'unknown' about them. In the last five global Skill Reviews we have conducted with out doubt the core skills that need some attention are Data and Tech, Digital Excellence, Better Briefing and Reporting Analytics. These are, on paper relatively straight forward skills gaps that can be closed. Increase spend in training, liberating a process to allow greater exposure to these skills, stronger templates and potentially recruitment are all 'relatively quick fixes'. More challenging are the behaviours that drive these individuals. Our tool divides behaviours into two broad types, Cultural and Leadership.
Typically, Leadership and Cultural behaviours display more than twice the gap during a self assessment suggesting that often when completing the self assessment that they believe they have most of the skills, but maybe need some support around 'how they' leverage them to their full attention. Continuing the tennis analogy, you may have a brilliant forearm, but lack the adaptability to deliver it when under pressure. At Flock we believe strong behaviours drives the very best in all of us.
FLOCK SKILLS ASSESSMENT BEHAVIOURS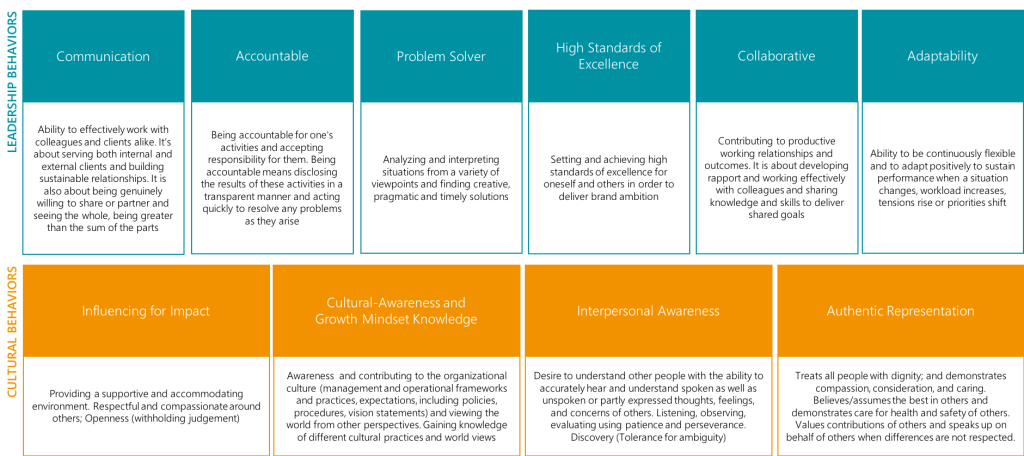 Recently we took the Flock team to Birch Community an offsite work and wellness retreat to spend some quality time with each other. Sure, there was some fun to be had, but importantly it was an opportunity for open and honest dialogue about what was working and importantly was need from leadership. These topics were tackled because we asked the questions. The impact of the two-day retreat asides from some painted bird boxes and some pottery to take home was a reenergized Flock.
WHAT CAN YOU DO?
In our recent Rep of the Nation we talk about encouraging open and honest communication. Here are 4 suggestions on how you might tackle that.
If you need help with any of the above or simple want to hop on a call for 15mins we'd love to be able to tell you how we've helped transform many marketing teams. We can't promise to help you with your forearm, but we might be able to help you be a better marketer.