Flock held the latest in its series of Flock Roundtables in sumptuous surroundings in Mayfair London this week. This roundtable was focussed on the marketing procurement community and attracted marketing procurement leaders from leading global companies, trade associations and consultancies.
A lively discussion covered many current and future topics. A short summary follows below:
The growing influence of marketing procurement in driving value and improved operations. In the largest, most sophisticated advertisers, marketing procurement has a license to disrupt, to find new ways to drive value (not just cost down, but value up), and to make recommendations on processes, organisation design. Especially in-housing, and specifying the whole agency ecosystem.
Soft skills development. Many marketing procurement teams work in complex matrix organizations and have to synthesize the interests of multiple marketing divisions, finance, procurement leaders and agencies. All agreed that soft skills development are an essential requirement for modern marketing procurement teams.
New ways to categorize spend. The old "working and non-working" definitions of spend are dead. (You can read more here). Leading companies are reassessing "non-working" and reclassifying into "investment" tiers. In addition old fashioned categories of spend are being redefined away from just media, creative + production etc. New categories are emerging as marketing disciplines merge, and technology plays an increasing role in marketing.
AI and other technologies. AI is clearly a disruptor and most marketing procurement teams are starting by de-risking their work with agencies by upgrading contracts and laying out ways of working, expectations and rules. However, many are beginning to work as part of cross functional teams in order to work through the huge value gains that can be made in media, production, and social. They're also looking how AI can lower internal time costs – one example on test that was given was using AI to write agency briefs! Flock has a thought leadership presentation available on how to implement AI in Marketing.  Register here to find out more.
Production is the new media. Ten years ago and forever since, marketing procurement teams have spent huge effort on media related topics, as that discipline became much more complex and tech powered. But it seems now, that production is the new media! Taking a lot of time to plan new production ecosystems, decouple, inhouse and create studios, create new "green screen" virtual studios and productions. As the requirements for ever more content increases, but budgets stay the same, costs are coming under very close scrutiny. If you would like to see our summary of 38 production initiatives that can improve value – request a copy of our "What's Hot in Production" article, here.
Performance Related Pay Schemes increasing in use and amount. All attendees use performance related pay schemes, and all agreed that they were using them more often and that the proportional amount of pay attached to them was increasing. Some mentioned that there have been problems getting appropriate KPI's for some agencies. Many marketing procurement teams use agency appraisals systems, like our own, as one element of PRP schemes. Others use brand and business metrics as well, depending on whether agencies can meaningfully impact those scores.
Sustainability & DEI moving from talk to action. Many leading advertisers are now using their marketing procurement teams to measure the "input" to advertising (agency headcount, directors, music etc), some but fewer are measuring the "output" (eg. what the on-screen portrayal looks like), and the most advanced but fewest are measuring the "outcome" of DEI in marketing; the actual results, are diverse audiences buying more, or thinking more favourably about brands? For more on how to measure DEI you can download our guides (in partnership with Incorporated Society of British Advertisers) here. Other advertisers are really now beginning to build more formal CO2 and other sustainability measures and programs, and moving from "desire to direct action". Key areas are business travel, print, production, media and sponsorships. To read more about Marketing Sustainability read our guide here.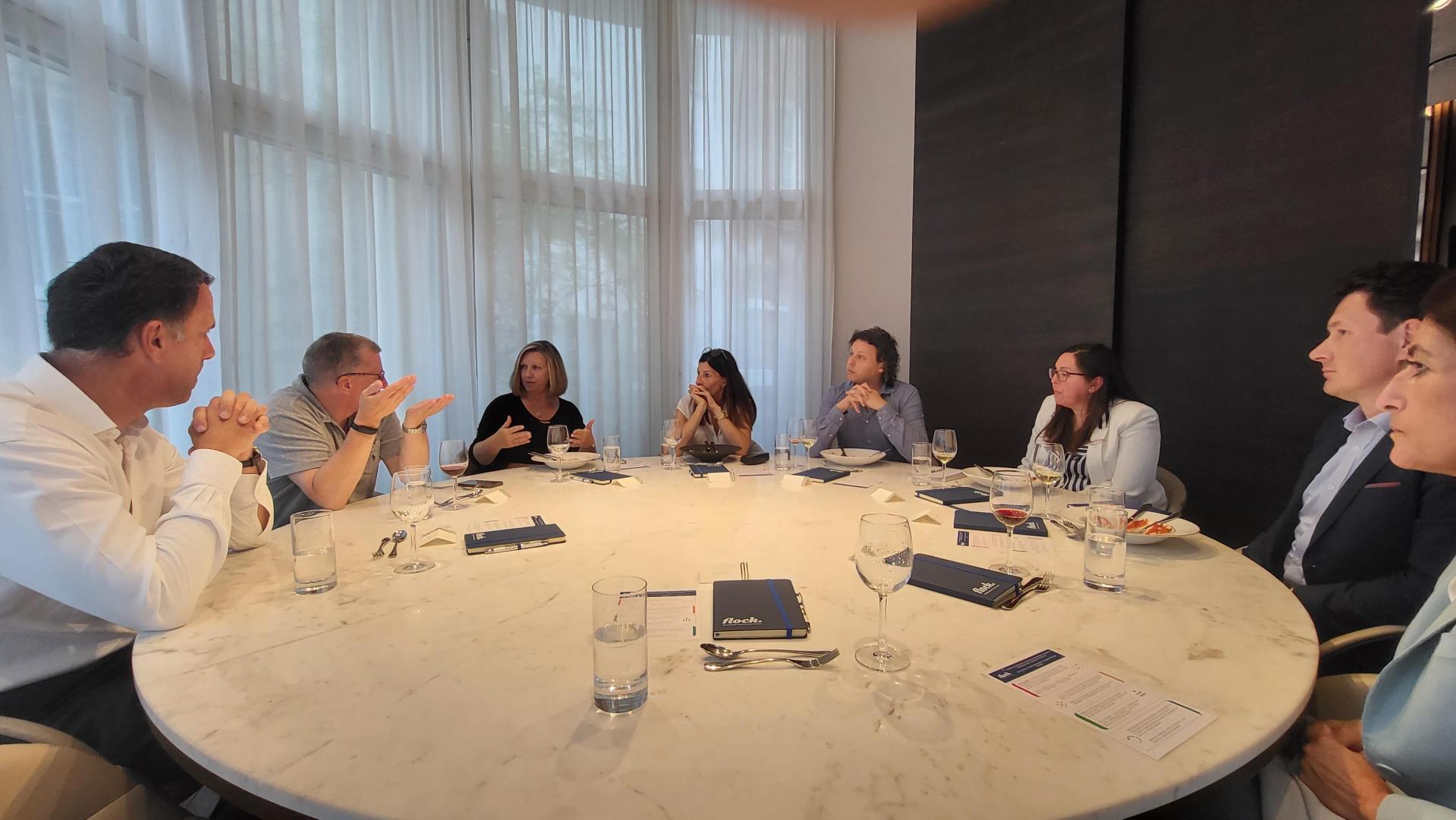 [Image description: A group of people in conversation around a round table.]
All attendees agreed to swap contact details and sharing of content on inhouse agencies has already occurred and we have some lovely feedback: "It was really interesting and great to hear from others on some similar challenges that we are seeing within the industry".
If you would like to be invited to future Flock Forum's please register here