In a recent survey conducted by Flock we asked you, "what was keeping you up in your world of marketing?".  There's no doubt that 2020 has been a challenging year on so many levels and the marketing industry has certainly not been immune to its effects.  Daily we hear of the economic impact on brands large and small struggling or going into administration.  It's fair to say that no one really has an idea what the long-term impact is going to be on business, but it's going to be bleak.  Thousands of job losses, business closures, and potentially a radically new looking high street.  Therefore, it was a surprise to see the main two pain points when thinking of 2020 and beyond was having the right team skills and ways of working to win.  Not because consistently, we see those as two key drivers, no more that we expected cost-cutting, consolidation, etc as the main drivers.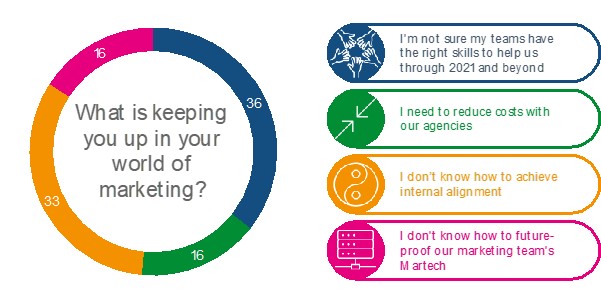 Let's look at the top two and see if we can provide some clues (from our own work at Flock) to why this is the case.
HAVING THE RIGHT SKILLS
In the last two weeks Flock have surveyed over 1500 marketers from all parts of the discipline using our proprietary Skills assessment Tool.  Naturally, we are finding that there are some core technical skills that people tend to lack. Digital, Connections Planning, KPI comprehension, brief writing and agency relationships are the five that regularly float to the top.  However in those organisations where the skill levels in those areas are high, there is still some degree of anxiousness about their ability to deliver.  Interestingly there is a direct relationship with this juxtaposition.  Leadership, adaptability, drive, attitude are key behaviours that staff often lack and as a result it affects their ability to exercise their skill levels to the full. Sometimes this can be the culture of and organisation but often it's the ways of working.
WAYS OF WORKING
You can have a match fit team, with stellar skills, but if they can't get the work done or work effectively together then it's a fruitless combination. Lack of clear roles and responsibilities, siloed departments and global vs local are three drivers that prevent skill excellence from flourishing. At Flock we are used to unearthing these issues in our skills assessments and the agency appraisals we conduct for our clients.

Put simply if you don't ask the questions about your teams' ability to be fit for 2021 and beyond you won't be prepared for the rocky road ahead. 

Here are some practical steps to take NOW and what they will deliver you.

CHECK YOUR MARKETING FITNESS FOR 2021
For a limited time we're offering a full Marketing Fitness Check for 2021, complete our confidential diagnostic tool to understand your Marketing Fitness, and we'll prescribe a free, personalised 'Flock Future Marketing Fitness' report to ensure your marketing for 2021 is up to industry standard across areas including Agency Management, Marketing Operations, MarTech, People and Team Skills, Media, and Creative Production efficiencies.
Start your free Flock Future Marketing Fitness check here.